Before we know it, amidst almost one million spectators, the dazzling countdown ball will lower against the backdrop of a kaleidoscope of fireworks signifying that it's time for a new decade to begin!
The new year is a time for motivational shifts, electrifying changes and of course new and exciting trends.
As we prepare to ring in the next decade, the trends for 2020 have begun to emerge in fashion, home decor and of course, events! We have taken a look at what is starting to come to life for weddings this upcoming year, and have highlighted our top five wedding decor trends for 2020 below!
5 Decor Trends for 2020
Let Them Eat Cake
Since the days of the Roman empire, cake has played various but significant roles in weddings. 2020 will be no different. This coming year, however, these delicious creations will resemble fabulous works of art and high-end couture, rather than ordinary baked goods.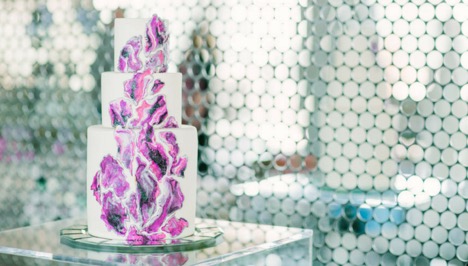 The Tarnos | Loft22 Cakes | Weddings by Stardust | 21 Parc Floral and Events | Propmaker Luxury Event Rentals | Posh Couture Rentals
Consider making your wedding cake a true showstopper by hiring a baker or artist who specializes in grand, edible works of art.
When thinking about design, draw inspiration from colorful stained glass, glamorous marble, delicate lace, vibrant watercolor or even lustrous mineral elements, such as amethyst and quartz.
Picture a towering multi-tiered cake with edible, deep sapphire cascading down the side, highlighted by various hues of blue-green and splashes of color that catch the light at just the right angle, bringing this gemstone work of art to life.
The Fabric of Our Lives
Weddings have always held fabric in high regard. From haute couture to over the top linens, fabric has always held a seat at the head table.
In 2020 fabric will continue to sit center stage, but this year large panels of fabric will be draping walls to bring a soft and romantic feel to any venue. Towering fabric panels hung from the ceiling will be used to add texture and create separate, more intimate spaces in larger spaces.
Award-winning designer Troy Williams tells BBJ Linen that working with the colors already present in the space rather than against them is ideal to enhance ambiance where fabric is concerned.  If you're feeling bold and the elements of your venue permit, sheer and vibrant panels in hues of plum, emerald or teal can add serious pops of color while still allowing natural light to filter through. Accenting one of these bold colors with a few narrow, metallic pieces can help add additional texture and contrast to any celebration.
Goodbye Greenery
Wildflowers are no longer just for the charming, southern inspired wedding or the blushing bohemian bride.
As global trends continue to skyrocket towards eco-friendly and sustainable living, it should come as no surprise weddings are following suit. Say goodbye to factory farm greenery in 2020 and hello to fresh wildflowers!
These floral arrangements aren't your grandmother's wheat and daisy bouquets. Wildflowers come in an abundance of bold options – from deep and moody color combinations like orange, cranberry and dark fuchsia to bright and vibrant hues, such as cobalt blue and electric yellow.
Whatever the design concept of your wedding may be, wildflowers are sure to make an incredible impact on your day, as well as on our planet.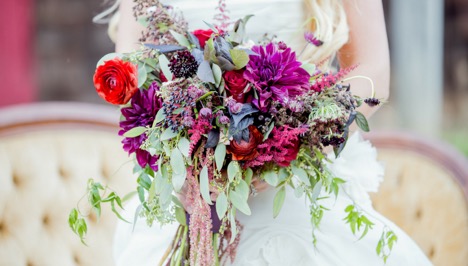 Astonishing Atmosphere
For many years wedding decor has been centered around the cornerstone of basic color combinations. As we approach 2020, it is all but apparent that design concepts are moving away from this foundation and weddings are being viewed with a larger lens.
Rather than one or two color combinations, wedding receptions this year will focus on an overall feeling or aesthetic that couples wish to convey to their guests. This can mean many things and of course is entirely dependent upon what you're passionate about.
How is this done, exactly? Perhaps you're a coffee loving couple. A deeply hued and darker vibe would coincide perfectly with this motif. Colors such as black and gold with pops of crisp white or rich scarlet will convey a serious and formal tone – much like that of espresso. Group mid-century modern furniture together throughout your venue for areas of intimate seating similar to that of a coffee house in the city. Consider accenting these areas with leather bound photo books of your engagement photos or life together to add a sophisticated but personal touch. Just don't forget a high-end coffee bar with all of the trimmings for guests to help themselves to the perfect, after-dark pick me up.
Burgeoning Burgundy
We would be remiss if we didn't highlight the always exciting color explosion of the year. This year, burgundy is shaping up to be it!
Burgundy may seem dark and temperamental, however, there are so many fabulous combinations to which it can lend itself. This versatile shade can take you from winter to spring with merely the bat of an eye and a hint of blush.
If you're looking to style your winter wedding, consider cool hues of deep burgundy and navy with warm accents of gold. For the perfect transition into spring, a hint of blush, a pop of fuchsia and a dash of burgundy will easily carry you through a more lighthearted season. Summer provides a perfectly bright backdrop for a burgundy, champagne and vivacious green floral palette. Finally, for fall, dusty blue with accents of pale sage are seasonally perfect when combined with a deep burgundy as the weather begins to cool.
Whether you decide to create an exquisite work of edible art, to drape soft and dramatic fabric wall to wall, or you prefer a classically styled wedding with hints of these fabulous emerging concepts, one thing is certain – implementing any of these decoration trends for 2020 will leave your wedding perfectly styled and your guests talking well into the new year.
---
About The Author:
Megan Beth is a writer based in Chicago. She enjoys creating useful, informative articles to help people succeed. When not writing, you can find Megan exploring the city or spending time with family. 
---
Get more helpful advice: