Since 2011, Artsy Couture has been leading the industry with our innovative, archival-quality wall décor. This year, we're excited to announce the launch of a new Canvas, engineered to provide the same great photo display with added extra benefits. 
What's the difference in décor between Classic Canvas and Premium Canvas? Here is how we have distinguished these two wraps: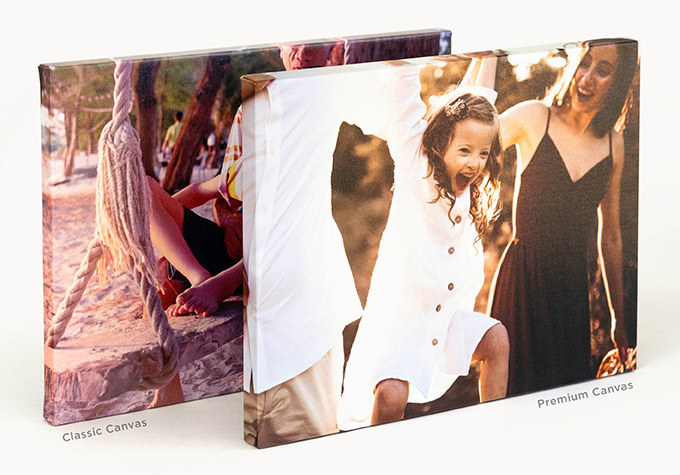 Canvas Material + Print Quality
Let's start with the most important feature of your Canvas Wrap, the material and print quality. Both the Classic Canvas and the Premium Canvas use the same museum-grade cotton canvas. We use our G7 color magic to print photos to perfection and coat each canvas with a protective UV laminate finish to ensure a lifetime on display. Plus, Color Corrections can be added to your order at no additional charge.
Frame Structure
The biggest difference between the Classic Canvas and Premium Canvas is in the structure of the framework. To help illustrate this, we've photographed the inside of each canvas, pictured below. Classic Canvas is stretched around a hollow wood frame, creating a flexible and tight surface. Premium Canvas is stretched and adhered to a solid wood surface, creating a strong and sturdy core.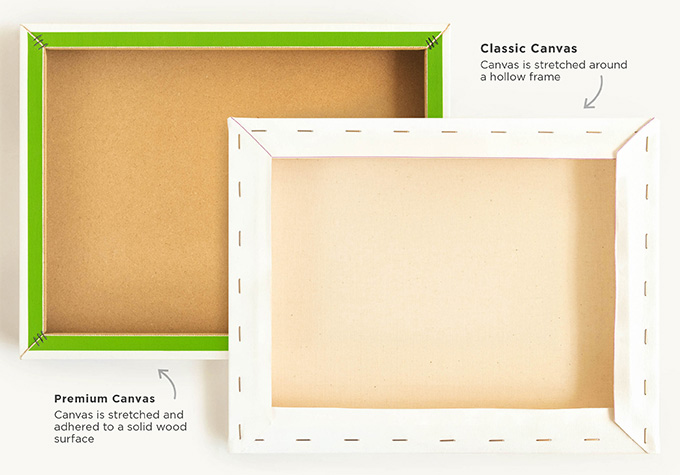 Because of the hollow structure, Classic Canvas weights less on your walls, making it easier to hang and reposition. Because of it's solid core, Premium Canvas is heavier in weight but can withstand just about anything. 
Available Sizes + Depths
Classic Canvas Wraps are available in 11 sizes, ranging from 8×10″ to 24×36″. Premium Canvas Wraps are available in Premium Canvas Wraps are available in 13 sizes, ranging from 8×10″ to 30×40″, as well as three Mini Canvas Wrap sizes. All sizes can be ordered in a 0.75" depth or a 1.5" depth.
Finishing Touches
While the structure represents the biggest difference between each Wrap style, there are slight differences in the final touches of your décor. Classic Canvas has a more traditional wrap technique, with tight, clean corners. Premium Canvas is adhered directly to the frame and has perfect, 90-degree corners.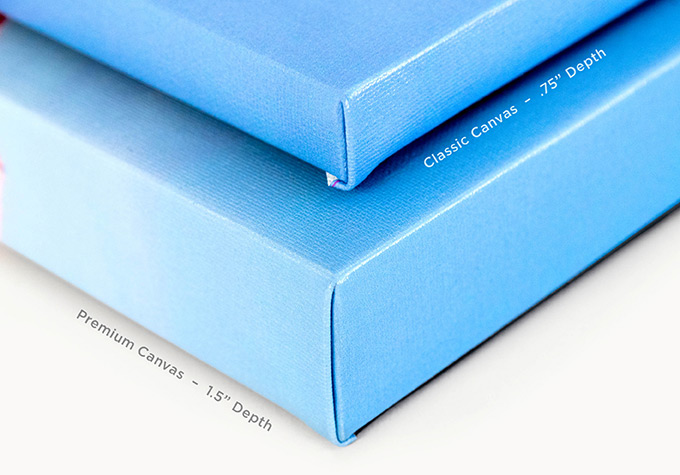 Both Classic Canvas and Premium Canvas are completed with a black mat backing and come standard with either a sawtooth hanger or wire hanger.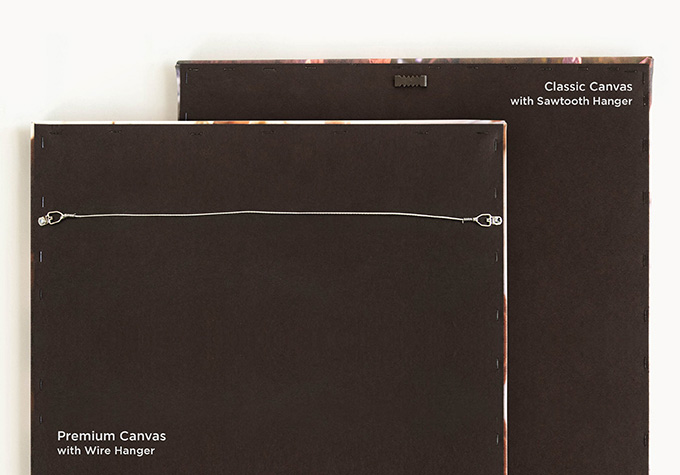 Caring for Canvas
While the structure of the Classic Canvas and Premium Canvas may be different, both Canvas Wraps will last for decades to come. Caring for your Canvas Wrap is simple; Keep out of harsh environmental conditions, white down with a damp cloth to clear away built-up dust and residue, and use proper hanging hardware to ensure your Canvas Wrap is safely on display. 
Turnaround Time
Manufacturing time for the Classic Canvas and Premium Canvas varies slightly. During peak production, Classic Canvas typically take just 2 – 3 business days to produce in our lab. Premium Canvas, however, takes between 7 – 10 business days once your order is submitted. 
Costs
Artsy Couture has proudly offered our industry-leading Canvas Wraps are more affordable price points than our competitors. Our NEW Classic Canvas starts at just $41. Premium Canvas Wraps, which are available in a few additional sizes including Mini Canvas Wraps, start $48. 
Whether you're looking for an gorgeous gallery wall or want to design décor for your studio or work space, both the Classic Canvas and Premium Canvas offer exquisite photo print display. Learn more and order you Canvas Wrap today!