It's that time of the year again – chestnuts roasting on an open fire, family and friends wearing their best ugly sweater, and Christmas songs playing non-stop. 
While the holidays are the perfect time to celebrate traditions, it's also the best season to create new ones. After all, you can only go to so many ugly sweater parties. Below, we have some festive event ideas and decorating tips that will help make this holiday season stand out.
Organize a Movie Night
Organizing a Christmas movie marathon is the easiest way to bring everyone together in a snap. Simply set up your living room or office lounge for maximum comfort: throw pillows out, plush pillows and warm blankets in. 
Order some pizza, chill some beer, pick from any of the holiday classics like Home Alone, A Christmas Story, or The Nightmare Before Christmas, and get ready for a long night of holiday cheer. 
Make it an even cozier affair by using a wireless projector to instantly turn the room into a mini-movie theatre, substituting the beer for hot cocoa or eggnog, and watching Love Actually or Bridget Jones' Diary instead.
Take Some Cues From the 70's
Platform shoes and maxi skirts, flares and groovy tops and shirts – there's nothing quite like a 70s Christmas party. With everyone in their best throwback attire, serve food that gives a nod to nostalgia – Gelatin Christmas trees, Snowman cake, and cheese cones – and put on Elton John's Step Into Christmas on your dusty, vinyl record. 
To make the night funkier, play some classic non-Christmas disco tunes like Saturday Night Fever, Boogy Wonderland, and Disco Inferno. 
Bring Glamour to the Holidays
According to an article about event trends by BBJ Linen, digging into the past for design inspiration is a huge hit this year. Feeling a little glamorous? Organize a Great Gatsby-inspired holiday event instead, replete with gilded Art-Deco accents and plush furnishings for your venue's decor, and black and gold flatware for the tablescape. 
Perfect for corporate events, or even your college holiday party, make sure to ask the ladies to come in lavish dresses and a Gatsby updo; and the gentlemen to arrive in style, wearing crisp 1920s tuxedos.
Have a Ladies-Only Wine Night
There should always be that one night during the holiday season where ladies – and only ladies – come together and have some fun. Leave your lovers and husbands behind, then head to the bar or set up shop in your girlfriend's place, for a drink or two. 
To make this exclusive holiday affair even more festive, Marie Claire suggests ladies to come in their best cocktail dresses, bring their favorite drink, and enjoy a guessing game of who brought what before toasting to the future of true friendship.
Forget the Red, Green, and Gold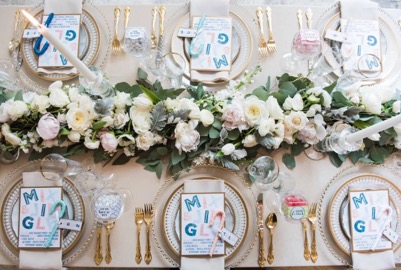 Design & Planning: A Perfect Event | Venue: DL Loft | Photos: Belen Aquino Photo | Cookies: Toni Patisserie
There's an easy way to break tradition and stand out this holiday season – forget your favorite Christmas colors. Host a memorable desserts-only afternoon tea with food and decor inspired by pastel palettes instead. 
Decorate your party space with pale pink or dreamy blue fabrics for an easy-on-the-eye tablescape, and use china with golden accents for an elegant touch. Rent acrylic chairs that evoke the season's frost, and accessorize with pastel holiday trimmings and your favorite stockings. Serve winter-themed pastel cookies and hot chocolate to complete a memorably whimsical affair.
Sing Your Heart Out
What's better than a karaoke night? Have a 'The Voice'-inspired Christmas party. Perfect as a team building activity during the holidays, have your bosses play the role of coaches and your workmates audition. 
Serve cocktails in an open bar to loosen up the crowd, and give employees the courage to sing in front of their colleagues. Reward seat-turning performances with sought-after prizes like gift certificates, extra vacation credits, or holiday baskets. 
For a more rousing party, change roles by having your bosses audition too – and take on iconic songs like the holiday favorite, "All I Want For Christmas Is You." 
Craft This Christmas
Bond with your family and friends by getting involved in craft projects during the holidays. Get everyone to try their hands making Christmas ornaments and holiday cards. Or simply invite the kids to help out in wrapping gifts like one of Santa's elves. 
Make crafting even more festive by curating a Christmas playlist s background music, and serving fuss-free snacks like tartlets, meatballs, and party franks.
Host a Food Festival
Food has great cultural significance across the world, most especially when it comes to celebrations. This Christmas, embark on a gastronomic tour by enjoying some favorite international comfort foods you've never tried or even heard before. 
From England's favorite Christmastime mince pies to Sicily's symbolic seafood dishes, this holiday celebration around the world is ideal for school events, company parties, and family gatherings. Delish also recommends trying out a Polish family favorite, the Babka, and Peru's fiery spiced hot chocolate, among many international favorites to flavor your holiday menu.
Host a Hot Chocolate Bar Party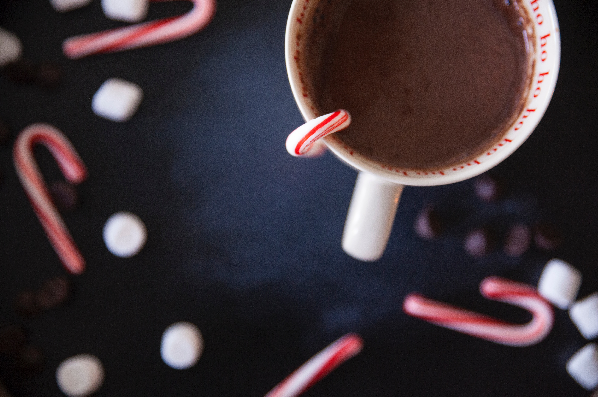 Winter is the perfect excuse to host a hot chocolate bar party that caters to kids and adults alike. Make sure to setup a festive ambiance in your home – Christmas trees, lights, wreathes, pine cones, stockings, and other holiday décor – for an unforgettable celebration. 
Together with your favorite hot chocolate recipe, serve a myriad of toppings and add-ins like sprinkles, marshmallows, chocolate chips, cinnamon, and whip cream. Keep things interesting by offering a hot chocolate option spiked with your favorite liquor to satisfy the adults in the room. Or offer healthy versions of the classic drink to your vegan friends.
Enjoy a Group Outing
One of the best ways to celebrate the holidays is to go on a group outing. For companies, this means adding an extra item in the holiday itinerary apart from the Christmas lunch or dinner. You can have both by organizing a get-together in an outdoor location like a park or pavilion, or spending the weekend at a cottage or ski resort. 
For families, a trip to Disneyland is a guaranteed winner. After all, there is no better place to celebrate the happiest time of the year than at the happiest place on earth. 
Throw a Paw-ty
You shouldn't be the only one getting treats this Christmas. And if you're a family includes furry members, it's time for you to throw a pet-friendly holiday party. Organizing a pet soiree starts by making sure you invite the right people – and pets. 
Avoid hosting a single event for both dogs and cats. Remember that your food is not their food, so inform your guests beforehand about the available pet treats. Custom gourmet treats for your furry companions are already available, including sugar-free and salt-free biscuits and cakes.
---
Take a look at some of our other great posts: