Extra! Extra! Read all about it: Artsy Couture will introduce two new photo print paper types: Glossy and Pearl Professional Prints
In addition to our Lustre and Textured surfaces, Artsy Couture e will offer these two new print options to ensure our customers are getting the best solutions for their high-quality standards and needs.  We will be using: Fuji Crystal Archive Pearl and Kodak Professional Endura Glossy or Fujicolor Crystal Archive Super Type PDN Glossy paper.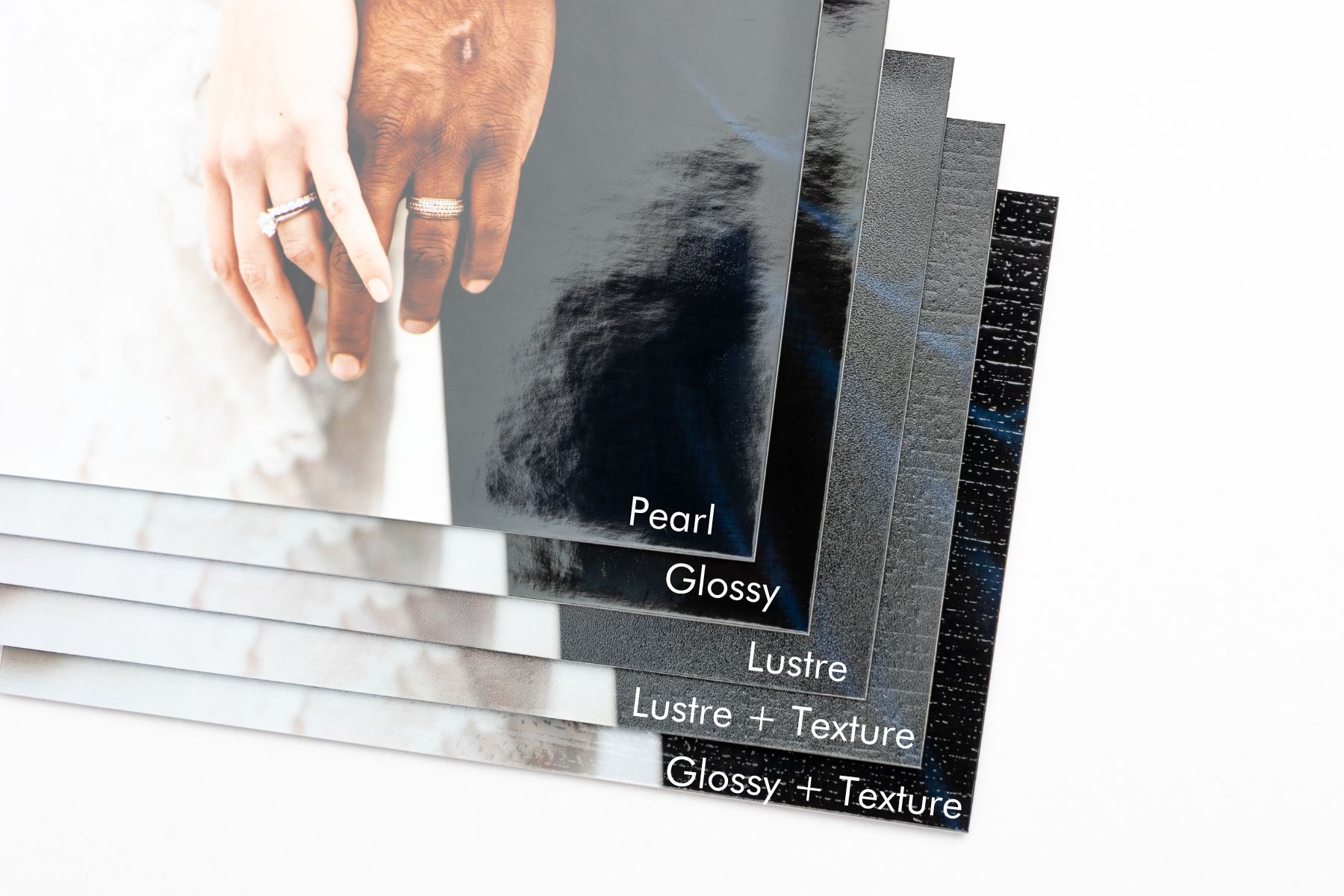 Let's break things down a bit further and learn about the differences between all our professional print paper types:
PEARL PRINTS – The new Fuji Crystal Archive Pearl Photo Paper is a glossy paper featuring a wide tonal range, sharper text quality, and a distinctive pearl-like appearance. This paper contains a unique component: pearly mica crystals. These crystals give silver halide color prints a specific luster, creating the pearl-like appearance it's known for. Pearly mica crystals are based on natural mica, covered with a thin layer of metal oxides. This gives photos an intense warmth and depth. The paper was designed to meet the growing, diverse demands for commercial prints and will certainly capture everyone's attention with its unique look.
GLOSSY PRINTS – The new Kodak Professional Endura and Fujicolor Crystal Archive Super Type PDN Glossy Photo Papers have the traditional glossy look with bright, bold colors that last. It provides that slick, shiny look to your photos that truly pops. Glossy paper will show off the vivid colors and sharp color contrasts in your photos while also delivering exceptional clarity with natural skin tones. You can't go wrong with this choice!
LUSTRE PRINTS – The Lustre paper offers a satin-like sheen with a modestly textured surface. This paper type is very durable and is wonderful at hiding fingerprints and minor scratches. It has the appearance and colors that a glossy print would have but without the reflective glare that sometimes make the image hard to see at certain angles. Your colors will stay bright and vivid with lustre paper and it will produce natural skin tones, enhanced highlight and shadow detail, and realistic saturation. It's the perfect photo paper for almost any image!
TEXTURED PRINTS – Textured photo prints are an ideal solution for the pro photographer to add to their product lineup. These prints are of the highest possible quality and are printed on lustre or glossy Kodak Professional Endura or Fujicolor Crystal Archive Super Type PDN professional-grade paper to ensure that you get the best finished product in the industry. Once the print is complete, we run it through a unique finishing process to emboss the texture directly onto the photo paper. This is not an additional coating or finish, but rather texturing directly on the paper.
Whatever photo paper you choose for your photos, you can count on us to deliver you quality photos that are sure to wow! Making sure your most cherished moments are exactly how you remember them is our goal and with our use of the very best products, we are able to do so.
We hope this guide helped inform you of our upcoming paper change and gave you a little more insight into all the different types of paper we have to offer. If you have further questions, get in touch with our Photo Experts.